Alor, East Nusa Tenggara
---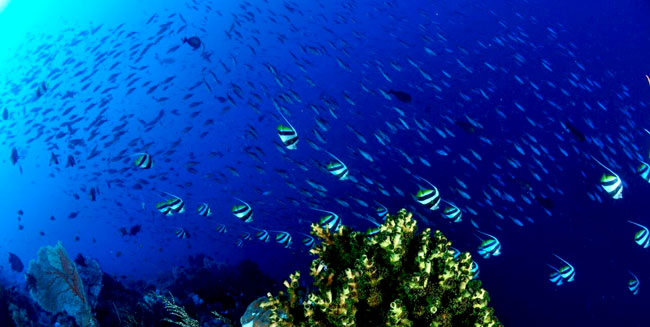 East Nusa Tenggara has a paradise for divers, namely Alor Island. This Indonesia's island as the winner at the 2016 of Anugerah Pesona Indonesia in the category of Most Popular Diving Spot. Alor is an island on the eastern tip of Nusa Tenggara. This island is one of 92 outer islands of Indonesia because it borders directly to Timor Leste in the south.
Alor is situated in the east of Flores. With the enchanting underwater life makes Alor so popular among domestic and foreign divers. The dive spot in Alor are so varied and have difficulty levels are challenging both for amateur and professional divers. Even 20 of these diving points are categorized as the best spot in the world. With this "world class" mix of pristine reefs, amazing critters, heaps of fish with walls, slopes, canyons, drifts and exceptional visibility(20-40 meters) documented to be clearer than Komodo and Raja Ampat.
The waters are very clear with the high visibility levels, inhabited by diverse biota. In fact, divers can dive at night and still can enjoy the underwater life, for special animals out at night. Besides diving, Alor also offers snorkelling sensation can be perfect with calm seas, clear water and shallow fringing reefs but special attention should be taken with regards to the unpredictable currents present in Alor.
Common daily sightings for divers and even some lucky snorkelers include turtles, blacktip, whitetip and grey reef sharks, small spotted sting rays, dog tooth tuna, barracuda, giant trevally, giant napoleon and bump head wrasse, schools of jacks, trevallies and fusiliers, frog fishes, giant reef cuttlefishes, manta rays, giant reef rays, sunfish (mola-mola), moray eels, lobsters, pipe fishes, box and puffer fishes, sea horses, octopus and mantis shrimps just to name a few.
Geographically located within the "Coral Triangle" with more than 3,000 species of fish and 500 species of coral, be expected to be amazed by the richness that abounds within the waters surrounding Alor and neighbouring Pura, Ternate and Pantar Islands which are all accessible by a 30-40 minute boat ride from the small harbour town of Alor Kecil about a half hour drive from the main town of Kalabahi.
Best Dive Sites in Alor
In fact, Alor is one of the islands that is surrounded by other islands with challenging dive spots, such as Baruna's Point, Captain's Choice, The Refrigerator, Half Moon Bay, Peter's Prize, Crocodile Rook, The Edge, Coral Clitts, Baeylon, School's Ut Shark Close, Tuna Channel, Anemone Country, Sharks Reeway, Octopus Garden Never-Never wall, Cave Point, Barrel Sponge Wall, Mola-Mola Point, Night Snacks, Alor Expree, Rocky Point, Three Coconuts, The Arch, Fallt Line, The Pacth, Nite Delht, Kal's Dream, The Ball, Trip Top, The Mlai Hall, No Man's Land, The Chatedral, Moving Pictures, Eagle Ray Point, and Rahim's Point.
Best Time to Dive Alor
You can dive in Alor all year round, but the best time are from March to December, with October and November being the months when current is most prevalent. Outside of that time the surface conditions can be unsettled and there is greater chance of rain and reduced visibility. And September is the best time to spot mola mola.
To Get There
To get to Alor, you can take a flight from Kupang, capital of East Nusa Tenggara. From Kupang there are several airlines that serve flights to Mali Airport in Kalabahi, the main town of Alor. The other option is by ferry which will take approximately 12 hours from Kupang to Larantuka, and followed by wooden boats to Kalabahi Seaport, which take about one hour.