Manado, North Sulawesi
---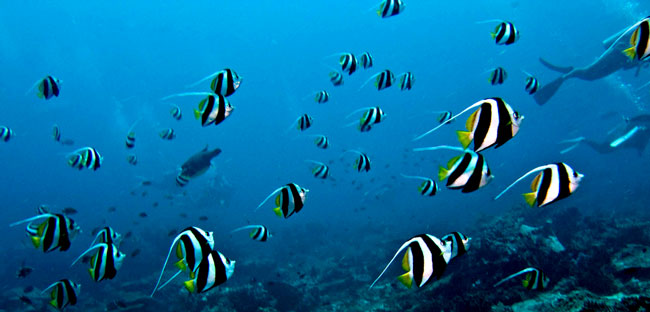 Manado is the capital province of North Sulawesi, belongs to Indonesia that holds many hidden tourism potentials. Beside to the various cultural tourism which has no doubt diversity, Manado also famous for its world-class dive sites can't find anywhere else. With the longest coastline is very tempting to be explored. It offers dive center and resort located in the downtown of Manado. Peace, quiet and a perfect site for the sunset view.
All of you must have heard Bunaken as the best dive in Indonesia, exactly located in Manado. If you thought that Bunaken is the only impressive diving spot in Manado then you are wrong. Bunaken is indeed the best diving and snorkeling spot in Manado even in the world. But, beside to Bunaken at least there are other cool diving spots in Manado, such as in Bangka Island, Lembeh, Sangihe Talaud and much more.
Dive sites in Manado has a lot of fishes, you can find some rare macro species and even manta ray point gliding gracefully into the blue. Commonly the divers may find whitetip and blacktip reef shark and also turtles. If you're lucky, you can also see larger sharks like silvertip shark on Mike's Point. For the macro lovers, you'll find many nudibranchs along the walls, as well as rare species of crabs and plenty of shrimps, perfect for underwater macro photography.
Best Dive Sites in Manado
Bunaken is the top dive sites in Manado as the coolest even the worldwide, a destination suitable for all level of divers. The waters are very clear with high visibility levels. On the shallow part of the reef you'll always find a superb and colourful coral garden around 4 meters deep and it is a great way to make your safety stop and get last underwater shots. These coral gardens are regarded as the best in the world making it a great playground for snorkelers too. Bunaken stores 13 species of coral reefs and 91 species of fishes.
Moving to Bangka Island that splendid diving spots are divided into several areas among others named Talise Island, Kinabohutan, Tindila, Gangga, and Tamperong. Then the most unique is the Lembeh waters become home to a variety of unusual marine species. In Lembeh you can see pygmy seahorse, mandarin fish, emperor shrimp, bumblebee shrimp, boxer crab, nudibranch, and various other cool marine animals. Even Lembeh has 88 diving spots are ready to be explored.
Next, Sangihe Talaud contains small islands with very clear waters. Explore into the sea there is an exotic scene and can't be found in other dive sites list. The uniqueness is in the presence of underwater volcanoes that create air bubbles from the seabed. So cool let alone combined with the colorful fish that pass by there.
Best Time to Dive Manado
Dry season runs from May to October, average temperature of 30°C. The water visibility is at its maximum and just fantastic up to 50 meters! Rainy season from November to April, but the monsoon is much less pronounced here than in other parts of Southeast Asia. The temperature is very nice (not too hot) but the water visibility can be affected by the heavy rains. And the best season would be from May to October during the dry season but good diving all year round is possible.
To Get There
You can reach Manado by bus, boat or plane. Bus is only an option from other parts of Sulawesi, from Makassar or Palu will take several days. Then, by boat from other islands using the Pelni line. The easiest way to get to Manado is by plane, and that is about the only way to get there from other countries. There are direct flights to Manado from Singapore, Kuala Lumpur and Davao, as well as from other parts of Indonesia, such as Makassar, Jakarta or Denpasar in Bali.