Derawan, East Kalimantan
---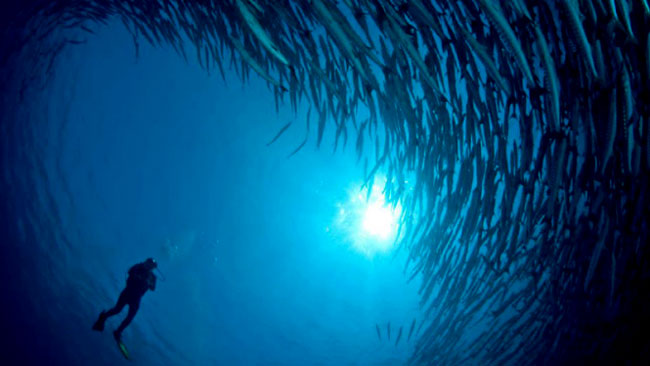 Out of all the Indonesia dive sites, and there are many, Derawan Islands are a favorite amongst divers around the world. Lies on the remote locations in Kalimantan that offers rare combination of big and small underwater life. You can imagine the beauty of marine life is abundant with an almost water tight guarantee of seeing something new each day. The waters are warm, isolated island with soft beaches of white sand bordered by waving palms, pure seas that change color from green to blue.
The Derawan Islands are in the province of East Kalimantan Indonesia. Those are Derawan, Sangalaki, Kakaban, Maratua, Panjang dan Samama Island and submerged reefs and islets. It's no wonder really, as the Derawan Islands is teeming with marine life. This spot is particularly mesmerizing for its crystal clear waters; the transparency is truly amazing! All the better to see the varying corals, the many species of fish and giant sea turtles, dolphins, manta rays, dugongs and barracuda, jellyfish and sometimes, whales! A favorite among divers and the best place for macro diving!
Best Dive Sites in Derawan Islands
Located in a biodiversity hotspot, the Derawan Islands feature 872 species of reef fishes, 507 species of coral, and invertebrates including protected species such as giant clam, two different sea turtle and coconut crab. Some of the islands harbor the largest green turtle nesting sites in Indonesia.
The best dive sites in Derawans are around Maratua, Sangalaki and Kakaban. If diving is your focus, consider staying on Maratua, Nabucco, Nunukan or Bakungan rather than Derawan. You can spot the giant mantas are the main attraction at Sangalaki. The most popular sites here is the shallow, high current site known as Manta Point, which is reef-hook diving; for maximum manta sightings, try and dive it around with your friends or family, it may fun activity. The tide change at full or new moon.
Besides to playing with mantas, you'll also be presented with a popular lake among local and foreign divers. This is Jellyfish lake, a trip to Kakaban is a must. There are only three places in the world where you can safely swim with stingless jellyfish! On Kakaban in Indonesia, Togean in Indonesia too and on Rock island, in Micronesia. You can spot small fish and some jellyfish in Kakaban. The waters are very clear, it seems the jellyfish come from all sides, dancing and through the sunlights, graciously. As you know they can't sting, your brain takes a while to digest they won't hurt you. Dives in Kakaban tend to be wall dives, which can be excitingly fast when the currents are right; there is also Barracuda Point, known for its towers of barracuda, plus sharks.
Around Maratua, the number one dive site is The Channel, a.k.a Big Fish Country, one of the highlights of diving Derawan. The Channel can be dived in two directions depending on tide – unless you're an uber-experienced diver, you should only dive it heading in towards Maratua, meaning that if you miss your stopping point you get swept into a lagoon, not out into the blue. If zen diving is more your style, then the amazing house reef at Nunukan and takes some beating.
To Get There
To get to Derawan, there are flights from Singapore to Balikpapan, East Kalimantan. Or you can take a flight from Jakarta, Surabaya or Denpasar to Balikpapan or Tarakan with Garuda Indonesia. Then take an advanced flight with Kalstar, Deraya or DAS flights to Tanjung Redeb in Berau. From here, the boat will take you to the Islands.