Gili Islands, Lombok
---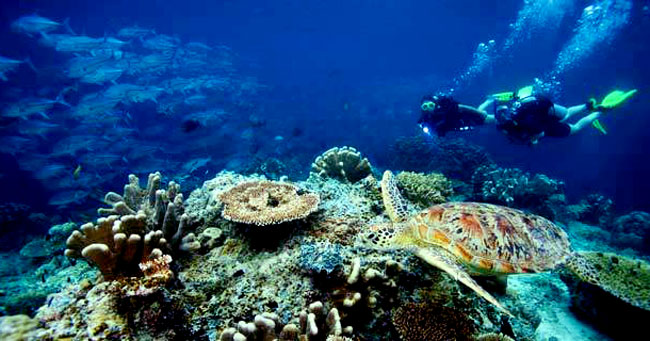 One of the best dive sites in Indonesia, even the worldwide is on this wonderful Lombok Island, West Nusa Tenggara. Especially in three Gilis, namely Gili Trawangan, Gili Meno and Gili Air. Besides best for diving, this spot is also one of the best place for learn to dive. According to the diver we know, Gili Trawangan are indeed one of the best places to learn dive. However it is a very good place for beginner divers as the conditions are usually good. The current is generally very gentle and the visibility good around 20 meters.
Diving around Gili Trawangan and the other Gili on Lombok island, we can find around 3,500 marine species. Due to a conservation program, water around the Gilis are full of green turtle! And you can see many during a single dive or even just snorkelling off the shore (ask the locals for good spots). These turtle are kept, and until a certain age they will be released into the sea. During certain times of the year it is also possible to encounter reef sharks, Manta rays and even the rare Mola Molaif you're lucky!
Best Dive Sites in Gili Islands (Lombok)
Around the three Gilis there are diving sites that you can explore, most are suited to all levels of diver but a few require an advanced certification or higher. For the famous dive sites, namely Shark Point for viewing larger marine life on the north side of Gili Trawangan. A flat sandy bottom turns into a series of progressively deeper canyons that run parallel to the shore. Reef sharks are found basking in the canyons, cuttlefish, stingrays, tons of turtles in the shallows, and every full moon it is a favourite hang out for a school of huge bumphead parrot fish. Large rays sometimes pass by as well as schooling trevally.
Manta Point on the south side of Gili Trawangan with a good variety of hard and soft corals, interspersed with bommies and large table corals which shelter the fish. There is rarely any current here, an excellent site to get close up with reef sharks, sting rays, cuttlefish, octopus and in season a passing manta. Then Halik is a steep slope on the north side of Gili Trawangan. Good site to multi level dive, the selection of soft coral in the deeper section gives way to hard corals as you ascend and in the shallows there are always several turtles totally unfazed by the presence of divers.
Meno Wall, suited to all levels of diver located on the west of Gili Meno and home to a plethora of crustaceans and a great spot for night diving. In this sites, you may find crabs ranging from small coral crabs up to the huge sponge crab, lobsters, shrimps, sleeping turtles, baby cuttlefish and scorpion fish are amongst the many creature that can be seen. Next, Air Wall is one of the largest in the area with 5-30 meters along part of the eastern side of Gili Air. A gentle sandy bottom slope past some ridges where you see the bump head parrot fish, progressing on the wall itself where many macro species plus a great variety of the more unique marine life can be found. As long as you know, there are still many sites that await you to explore the Gili Islands.
Best Time to Dive Gili Islands
Diving in Gili Islands is possible all year round but try to avoid December and January. The heavy rainfall during these months will reduce visibility quite a bit. The best season runs from May to September.
To Get There
The simple way to getting Gili Islands is by plane. All flights will arrive at the new international airport, Bandara Udara International which is 1 hour 45 minutes drive from the Gili islands of Trawangan, Meno and Air. We can still arrange a car and driver to meet you and take you the 1 hour 30 minutes ride to Teluk Nara, a small secluded bay, where our speedboat will take you to any of the three Gili islands. Or alternatively to Bangsal harbour where you can get a local Jekung boat.