Komodo National Park, Flores
---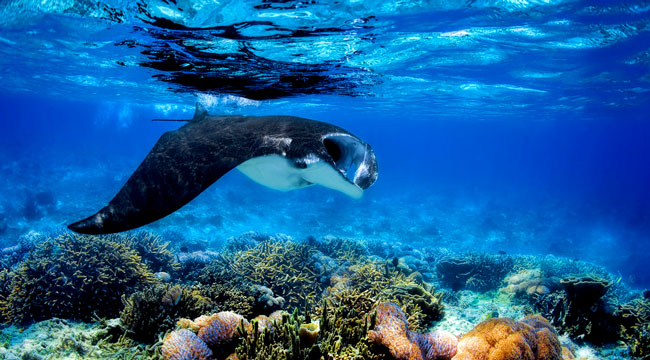 Go diving in Komodo Island and discover one of the most species diverse locations in Indonesia. This is it, Komodo Island is located in Komodo District, Manggarai Barat Regency of East Nusa Tenggara. Together with Rinca Island, and Pulau Padar (as well as some small islands), it has been designated a National Park since 1980. It has also become one of the UNESCO world heritage sites since 1991.
Diving around the Komodo Island like a dream come true! With the abundant fish diversity, superb and untouched coral reefs, big fishes hunting, and pelagic fishes at every dive site will make your dives unforgettable. Komodo offers a complete range of diving conditions. On current dives; gentle drift dives; walls of color; monumental boulders, caves and swim-throughs; colourful reefs; seamounts and pinnacles; both black and white sand slopes, muck dives. Large pelagic fish, 18 species of cetaceans, whale sharks. If you're lucky you can spot bigger sharks like the grey shark, even hammerhead shark! Dugongs, green and hawksbill turtles and much more is waiting to be discovered.
You might have the chance to see the magnificent kind-hearted manta ray. You can spot them all year round but the best time to see them during the rainy season. Komodo Island are really exciting to dive during the monsoon because this is the Manta Season was coming. Manta Point Komodo is a dive site rich with bottom based plankton making it an alluring spot – attracting dozens of manta ray for feeding and cleaning.
Geographically the site is directly on the channel connecting the Indian and the South West Pacific oceans, each hosting distinct underwater climates that come together to create an ideal environment for Manta Ray. You can expect to drop down just 10 meters or so to find a sandy bottom not heavy with coral but blessed with excellent visibility for most of the year and a reasonable current to nourish the nutrient rich arena for the manta ray.
Best Dive Sites in Komodo Island
There are so many awesome dive sites with the different types of experience in Komodo National Park. The first, Sabolon offers Sabolon Kecil and Sabolon Besar are great dives close to Labuan Bajo. Sebayor Kecil with a small reef is extending towards the northwest and we can usually see groups of giant trevally, whitetip reef shark, coral trout, snappers and emperors. Mini Wall also located on north face of Sebayor Kecil. There is good reef fish life in Tatawa Besar East and West, including giant trevally, fusiliers, angel fish and lots of sweet lips. Tatawa Kecil, a small island south of Tatawa Besar island with fantastic snorkeling when the current is not to fast. Also Batu Bolong is a tiny rocky island in the strait between Tatawa and Komodo.
Then Manta Point or locals called Karang Makassar, famous for its aggregations of up to 100 manta rays. And without a doubt one of the most current affected sites in Komodo called Batu Tiga. Not only that, still many more sites that are worth to dive. Such as Batu Sabun, Siaba Kecil, Pengah, One Tree, Castle Rock, Pink Beach, and more.
To Get There
To get to Komodo National Park is very easy, there some ways to reach this island. Firstly, Fly from Bali airport to Labuan Bajo located on Flores Island. Labuan Bajo is the first gateway to explore the Komodo National Park. From there you can go diving with one of the local dive centre during daytrips in the marine reserve. Second, from Labuan Bajo you can get a diving Liveaboard to take a tour of the Komodo islands and the best diving sites. Another way, you can charter a boat in Labuan Bajo and make your own private cruise around the Komodo Islands, perfect for discovering the archipelago and for snorkeling. And the last way, from Bali, you can take a Liveaboard which will take you to a splendid diving cruise around Lombok Island and the Komodo marine reserve.