Raja Ampat, West Papua
---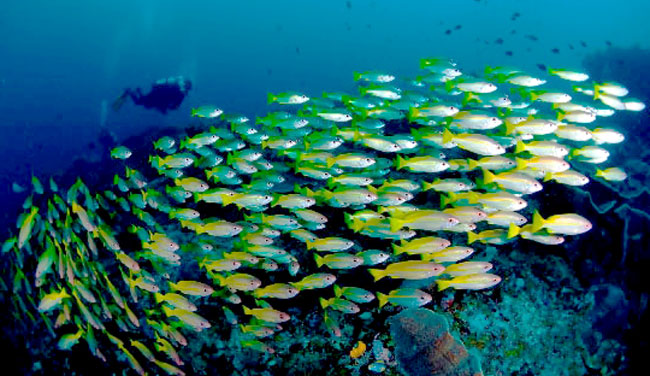 West Papua is home to Raja Ampat Island or the Four Kings that has 610 islands. Four of the largest are Misool, Salawati, Batanta, and Waigeo. Raja Ampat has been described by many scientists as the richest place for Marine life on Earth. The biodiversity is just amazing with weird and rare underwater creatures everywhere you look. Many new species have been discovered over the last few years in the archipelago. Here are identified 537 species of coral reefs (75% of the total coral species in the world), more than a thousand species of fish and 700 species of molluscs. In recent years it has become known as one of the world's top places for scuba divers seeking to treat themselves to incredible diving and a remote and fascinating location.
R
aja Ampat is like heaven for underwater photography with magnificent hard and soft coral, clear water and a teeming reef life. These islands are very rich in macro life with just about all of the kind of critters you can dream of! The Raja Ampats are also great for big fish action with pelagic fishes everywhere such as the giant trevally or the dogtooth Tuna. You can spot many sharks too, mainly blacktip and whitetip reef sharks but also the strange and beautiful wobbegong shark. Manta rays are common too and there are amazing dive sites such as Manta Ridge and Manta Sandy to spot them! The very rare dugongs has been spotted several times too. From the boat it is not rare to see dolphins playing or a whale passing by.
Tourists visiting Raja Ampat must first choose between resorts and Liveaboards. Not only do these visually stunning islands harbour the greatest number of fish and coral species in the world, but they are reportedly the best place to see the outrageously beautiful birds of paradise in their natural habitat.
Best Dive Sites in Raja Ampat
The best dive sites in Raja Ampat include Mansuar Island, Chicken Reef (coral reefs with strong currents above but quiet inside), Mike's Point, Manta's Point (Arborek Island), Manta Ridge, Manta Sandy, Blue Magic, Cape Kri, Cross Wreck, Farond Island, Jef Fam Group, and more.
Best Time to Dive Raja Ampat
Diving in Raja Ampat is excellent all year round. As the number of divers coming to this remote area is very small, there is no "high season". The climate is tropical with hot and humid air. The weather is sunny all year with some rainy days. From May to September, there is more rain than the other months but nothing too bad.
To Get There
If you are diving to Raja Ampat, then Sorong is the main gateway to the rest of Indonesian and the world, even though Jayapura is the provincial capital. You can fly directly to Sorong from Jakarta, Ujung Pandang (Makassar) and Manado. From Bali there are convenient connections via Ujung Pandang and Manado.
From Jakarta; Soekarno-Hatta International Airport in Jakarta is well connected with most of Asia and Europe. Also domestic airlines with direct flight from Jakarta to Sorong.
From Singapore; There are regular flights from Singapore to Manado. Then Manado to Sorong or easiest to check with a local Indonesian travel agent. Arriving in Sorong, you will be greeted and transferred by speedboat to your resort or depending on which place you will visit.