Weh Island, Sumatra
---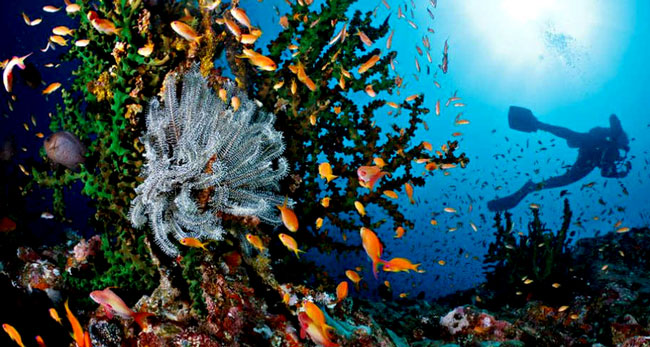 Indonesia is one the best countries in the world for diving. If you feel that a trip is incomplete without at least one dive, Weh Island also known as Sabang Island is the chosen one that pretty high on your list. Lies on the most western tip of Indonesia, Weh Island rarely gets the spotlight. Sabang is a city located on Pulau Weh which is gateway in the western tip of Indonesia. Sabang has an area of 156.3 km² with the highest peak of 617 meters above sea level. Due to many people call Weh Island as Sabang Island. Weh Island itself is the main and largest island separated from the mainland of Aceh by Bengal Strait.
The international divers do not hesitate to call Weh Island as the best diving spot, not only in Sumatra, but also Indonesia. With 20-30 dive points, Weh is ready to pamper you with an impressive marinebiota. Surrounded by beautiful coral reefs, colorful fishes and coral rocks its shores, Weh Island also has waves with a calm crystal blue accent.
Best Dive Sites in Weh Island (Sabang)
There so many awesome dive sites with different types of experiences in Weh Island. First, Gapang House Reef with long white sandy beach loavted on the other side of Gapang Beach, shallow area is covered with small coral formations, home to a variety of critters. Along 50 meters out, the channel from Rubiah Island brings in great currents, which make learning to dive with currents or night time diving. Next, Limbo Gapang let the variety of creatures here to surprise you every time you dive. It's just only a walking distance dive site and easy to access that you can enjoy it any time with or without guides. Sandy bottomed area with coral heads and a group of stunning tropical fish.
Moving to Sophie R. Wreck with 134 meter long, a cargo ship lying on its own gracefully, covered with coral reefs and sharing fish species. This German-made ship sank in the waters of Weh Island on May 10 1940, in the World War II. Next, Underwater Volcano normally done in conjunction with the Sabang wreck using the same tank, this dive offers up an interesting topography and gives you two shorter dives. Abnormally warm water due to the thermal activity and rising bubbles makes for a fascinating dive. The next dive sites lies on Teluk Pria Laot has a depth of about 13-20 meters with a fumarole hole that spurt constantly causing full waters with a vortex bubble. In contrast to the Teluk Pria Laot, In Pantai Anoi Hitam, we can swim on the Acropora reef tables in the shallower waters. The currents are a bit firmer, especially in the afternoon. Then Batee Tokong marked by a set of rocks jutting from the sea, this dive site offers a deep sloping wall covered in gorgonian sea fans that connects to shark plateau. Strong currents offer up a variety of pelagic including white and black tip shark, trevally, barracuda and a variety of rays. There are still many other dive spots being favorites if you're visiting Weh Island, among others Monster Jalan, Sabang Wreck, Thai Wreck, Rubiah Sea Garden, Seulako, Shark Plateau and more. If you keep a sense of curiosity, then do not miss Weh Island as your list diving.
Best Time to Dive Weh Island
A sunny and fitting season for diving in Weh Island ranges from April to November. In those months, the weather is often without rain and the currents are quite calm, not interface your diving activities.
To Get There
From Soekarno - Hatta Airport in Jakarta, to Sultan Iskandar Airport in Aceh. Then you have to go to Ulee Lheue Port in Banda Aceh by public transportation around the city. After arriving at the harbor, you can choose the category of ship that will be used to touch down to Pulau Weh: speed boat or ferry. If using the ferry, the duration of the journey of Ulee Lheue - Weh Port about 2 hours.